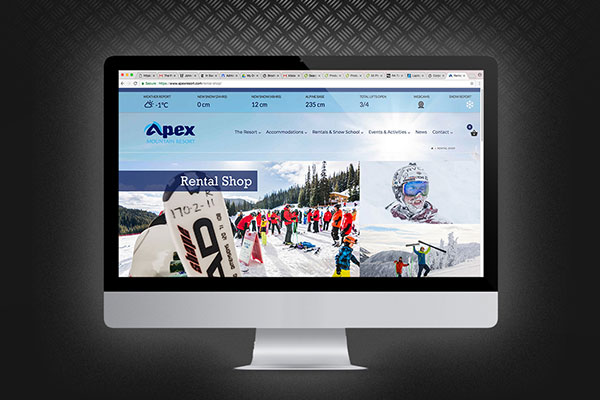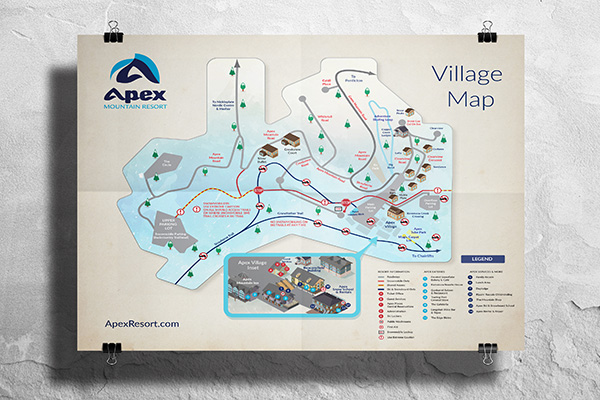 THE CHALLENGE
This regional ski resort has tons of potential. The snow can be amazing. The terrain is largely challenging and the locals are very friendly. The resort was recently purchased and the new owners have a vision of a larger, four-season resort Apex Resort, enticing destination visitors from the US and across Canada.
The challenge for us was how to support owners and staff of Apex Resort in the earliest days of this transition, with limited time, a restrictive budget and a challenging image bank.
HOW WE DID IT
Rather than spend resources on a full re-brand, we employed a new, bold colour palette to refresh the logo. We built a substantial website with an entirely new site map focussed on helping guests easily access the information they were most likely to search. We build a new village map that highlighted the new services and features Apex has to offer.
Social media is integral to resorts. We re-designed and managed all 3 social media channels for the resort through the 2017-18 season. We worked with the various businesses to ensure that we were able to highlight as many special events and happenings as possible.
THE RESULT
Social media channels grew 37% in the first 3 months. While the season was slow to get started (weather forced the resort to delay its opening) the engagement and visits have been solid with nearly 350,000 page views by mid-season and the best season-pass sales in several years. And, real estate that had been "sitting on the shelf" for a long while has all been scooped up. All in all, we're very pleased with the first years' performance.